Bio-Broly's lineage can be traced back several films, to the events of Broly - The Legendary Super Saiyan. After the Legendary Super Saiyan, Broly's defeat on New Planet Vegeta, he makes a frantic escape in his Saiyan Pod as the planet is demolished by Comet Camori. Over time, the pod finally reaches Earth, soon after which Broly collapses from exhaustion and enters a sort of coma, where for seven years, the elements expand around him. Eventually, he is awakened underneath a thick pool of ice by the incessant cries of a nearby Goten, and after escaping this grave, Broly resumes his conquest against the Saiyans who double crossed him, particularly Goten, as Broly's sanity has been breached so heavily since the encounter on New Planet Vegeta that he can hardly tell Goten and his now deceased father apart.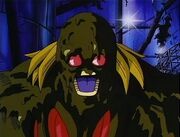 Ad blocker interference detected!
Wikia is a free-to-use site that makes money from advertising. We have a modified experience for viewers using ad blockers

Wikia is not accessible if you've made further modifications. Remove the custom ad blocker rule(s) and the page will load as expected.